WELCOME TO THE FIRST INTERNATIONAL CYBER- SCHOOL OF THE FUTURE FOR THE NEW IT-GENERATION KIBERone!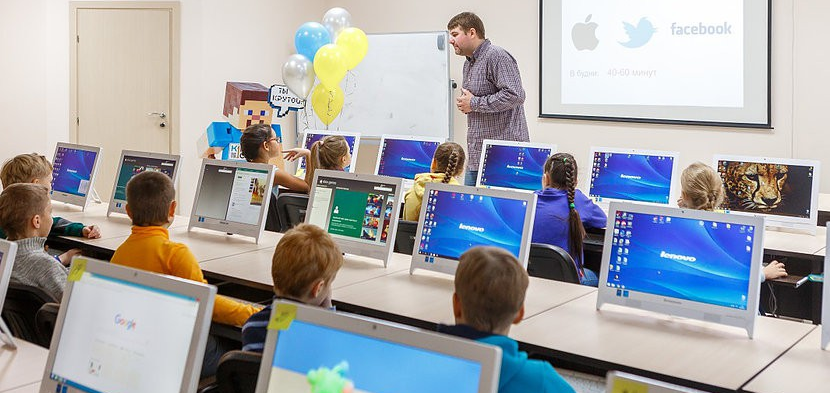 WE TEACH THINGS THAT WILL BE NEVER TAUGHT AT SCHOOL. WE HELP KIDS TO GET RID OF COMPUTER GAMES ADDICTION, INSTEAD THAT - THEY IMPLEMENT THEIR OWN PROJECTS
We teach kids the main skills necessary for success in core professions of the future:
to read and manage codes. That exact thing underlies computer programming.
to be fluent in professional tools used by Yandex, Mail, YouTube
to design a kid's own city in Minecraft
to create computer games, websites and applications for Web and Store
to create cartoons and edit videos
to use graphics editors and implement ideas in the sphere of Design
to create good-looking presentations
to communicate in English language

More benefits:
Kids will
-visit the largest IT-industry companies in Russian Federation and the USA
- have an opportunity to take part in important events in the sphere of computer technologies all over the world
- be able to develop skills of systemic and strategic thinking, which were earlier developed only through playing chess. We develop them by more advanced and efficient methods.
- learn foreign languages and save parents' moneys on additional lessons. Every kid – will get a foreign language simulator as a present!
Tomorrow you kid can be more successful than his/her counterparts spending on this minimal amount of time (classes take place once a week for kids at the age from 6 to 14 years old).
Every lesson is provided with interactive activities in the game and entertainment way with cognitive nature.